#SS35: Statement from Javaid Rehman – UNSR on the human rights situation in Iran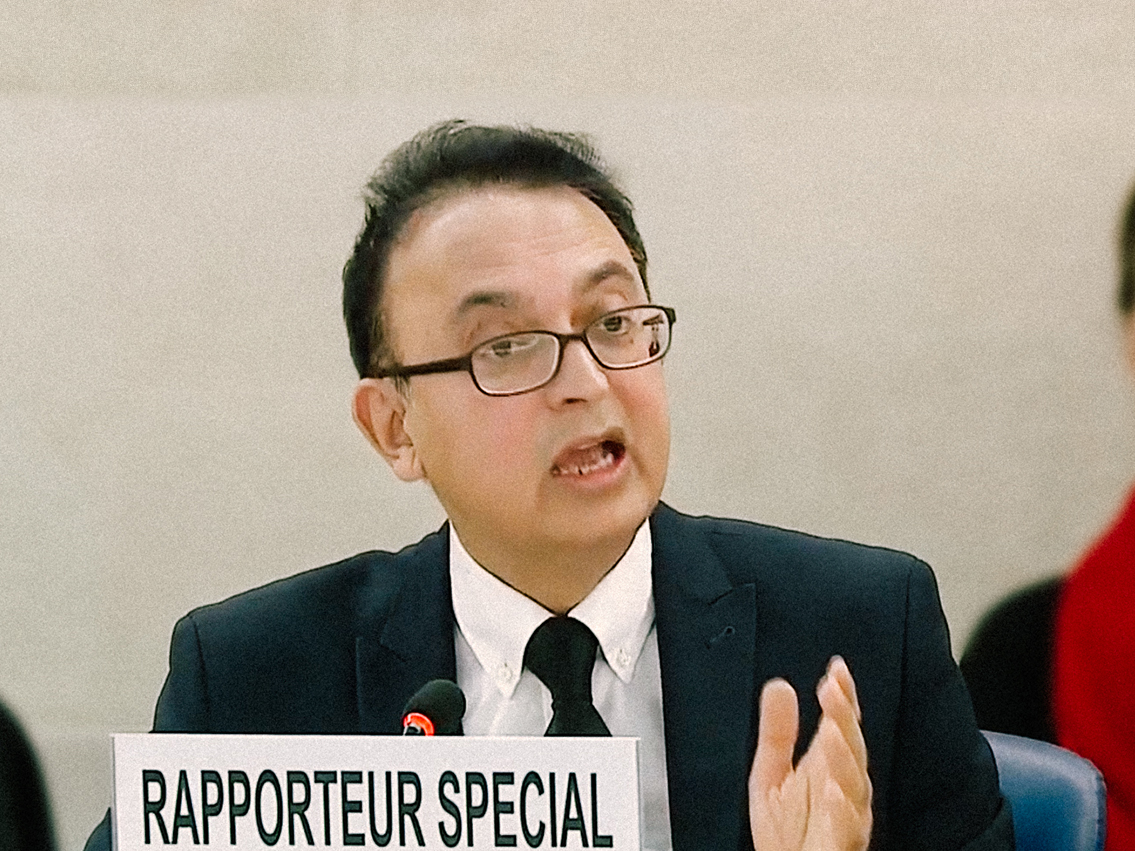 Find a Persian translation of the statement here.
24 November 2022
Mr. President, Distinguished Delegates, Representatives of civil society,
It is my honour to be with you today and to deliver a statement on behalf of the Coordination Committee of the Special Procedures and my own mandate.
On 26 October, given the gravity of the human rights situation in Iran, ten Special Procedures mandates called for a special session to be convened. I would like first and foremost to thank States Members of the Human Rights Council who enabled this historical moment for the people of Iran.
Mr. President,
On 16 September 2022, for a few locks of her hair reportedly appearing under her hijab, Jina Mahsa Amini, a Kurdish 22-year-old woman died in the custody of the so-called morality police. This tragic event was not an isolated one, but the latest in a long series of extreme violence committed by Iranian authorities against women. It happened only a month after President Raisi signed a decree ordering further repressive measures for 'improper hijab'.
Jina Mahsa's death sparked nationwide outrage and moved the world's conscience.
Following the path of brave women human rights defenders such as Nasrin Sotoudeh, and Narges Mohammadi, women and girls took to the streets, demanding accountability for the death of Jina Mahsa and seeking an end to decades of systemic and systematic gender discriminatory laws, policies, and practices which have sought to erase them from the public sphere and control every aspect of their private lives.
In an unprecedent movement, fathers, sons and brothers joined women and girls under the banner of one slogan "Zan, Zendegi, Azadi", "Women Life, Freedom". Overcoming fear, Iranian people united across class, geographic and ethnic lines to demand a life in peace and dignity, in a country respectful of rule of law, human rights and fundamental freedoms, a country where their lives matter, where chanting, dancing, showing hair do not lead to flogging, jail or death.
Mr. President,
Since the first days of the protests, and in line with long standing violent practices, top State officials have instructed security forces to violently repress people at any cost to human life. At no point did the Iranian authorities show any genuine willingness to engage in any discussion with demonstrators.
Anyone taking part in the protests was quickly labelled as "enemy to confront", as "terrorist" or as "foreign agent attempting to destabilize Iran". Both the head of the Judiciary and the President emphasized the need to act "without leniency" against protesters.
Mr. President,
The figures just provided by the High Commissioner for Human Rights, (at least 300 reported deaths including at least 40 children and 20 women and girls) speak for themselves and provide evidence of how these deadly instructions were literally followed, especially in Sistan and Baluchistan and in Kurdish areas. As always, oppressed religious and ethnic minorities have been paying the heaviest price.
In the past seven days alone, crackdown on protests has intensified with at least 60 to 70 persons killed including five children, most of them from Kurdish areas. The situation in the Kurdish cities of Piranshahr, Javanrood and Mahabad is alarming.
Even children and youth have not been spared. Last week, three young boys were shot dead during a demonstration in the city of Izeh. Kian, a 10-year-old boy who had imagined a God of rainbows, a colourful future for the children of Iran was one of them. At least four girls aged 16 and 17 were beaten to death. Security and plainclothes forces raided universities and students gatherings and unlawfully fired tear gas, metal pellets, and live ammunition at students.
With over 15 000 persons arrested since the protests started, prisons are now bursting with all those who had dreamed of and worked for a better future for Iran.
Since 13 November, at least six persons have been sentenced to death and at least 21 including one woman have been indicted on vague and broadly formulated criminal offences carrying the death penalty through grossly unfair summary trials conducted behind closed doors by Islamic Revolutionary courts. These courts, which are issuing most of the death sentences have been used for decades to sentence political activists, journalists, lawyers and human rights defenders on the basis of forced confessions extracted through torture and other forms of ill treatment.
On 11 November, 227 parliamentarians in blatant violation of the separation of powers, called on the judiciary to act decisively and pronounce severe punishment including sentences carrying the death penalty. As Special Procedures we urged the Iranian authorities to stop using the death penalty as a tool to squash protests reiterating our call to immediately release all peaceful protesters.
Mr. President,
Those who defend human rights and fundamental freedoms endanger their lives and safety inside but also outside Iran. Reporting human rights violations lead to smear campaigns, threats, surveillance, arbitrary arrests, detentions, torture and ill-treatment in detention, including sexual abuse.
Over the past two months, we have received numerous testimonies of victims' relatives providing detailed harrowing accounts of how officials refused to return the bodies of their loved ones until they committed in writing not to hold a funeral and how they were cruelly forced to bury them in remote burial sites, often during the night and in the presence of intelligence agents.
On 17 October, Committee on the Rights of the Child publicly expressed concern over families being pressured to absolve security forces by declaring that their children had died as a result of suicide and making false confessions. Parents were threatened that their other children would be killed or harmed if they did not make such false public statements on State TV.
Intimidation expands beyond Iranian borders. Staff of major media outlets have been receiving death threats while their family members in Iran remain subjected to interrogations, arbitrary arrests, detentions and travel bans.
Mr. President,
Let me now turn to the structural impunity that prevails in Iran for serious human rights violations which merits a forceful response from the international community.
On 22 September, together with seven Special Procedures mandate holders, I denounced the deadly crackdown on protests and urged the Iranian authorities to undertake an impartial, and prompt investigation into Ms. Amini's death, to make the findings of the investigation public and to hold all perpetrators accountable.
However, the Iranian Government has consistently presented unsubstantiated 'reports' and reiterated assertions claiming that Jina Mahsa did not die as a result of any violence or beatings. In other reports, the Government refutes the killings of children by security forces, claiming that they committed suicide, fell from a height, were poisoned or killed by anonymous "enemy agents".
Not only do these so-called investigations fail to meet the basic standards of impartiality, independence and transparency enshrined in international law, but they constitute further evidence of the fabrication of untruthful scenarios aimed at covering up crimes and ensuring the impunity of perpetrators. They are also an affront to families' right to truth and justice.
Mr. President,
In my March 2022 report to this Council, I concluded that there is a complete absence of accountability for crimes under international law and other serious human rights violations in Iran, with no prospects that it could be achieved at the domestic level.
While the legislature and executive block and negate all avenues of accountability, the judiciary acts as a repressive organ instead of an independent body from which victims can seek recourse. Persons seeking justice are systematically subjected to intimidation, imprisonment, and other forms of reprisals.
Emblematic examples include the secret summary and arbitrary executions of thousands of political dissidents in 1988, the unlawful, lethal use of force in nationwide protests in 2009, 2017 and 2019, and downing of Ukraine Airlines flight PS752 in 2020: None of these events have ever been the subject of any independent investigation, let alone prosecutions and punishments.
Structural impunity has fuelled widespread patterns of unlawful killings, enforced disappearances, torture and other serious human rights violations in Iran.
It is in this context that I would like to reiterate the call issued by Special Procedures mandate holders on the Human Rights Council to fulfil its duty, hear the prolonged cries of victims for accountability, and to establish an international independent investigative mechanism in the events leading up and since the death of Jina Mahsa Amini.
I thank you.