HRC51 SIDE EVENT – Human Rights in Iran: Violent Crackdown on Women and Protestors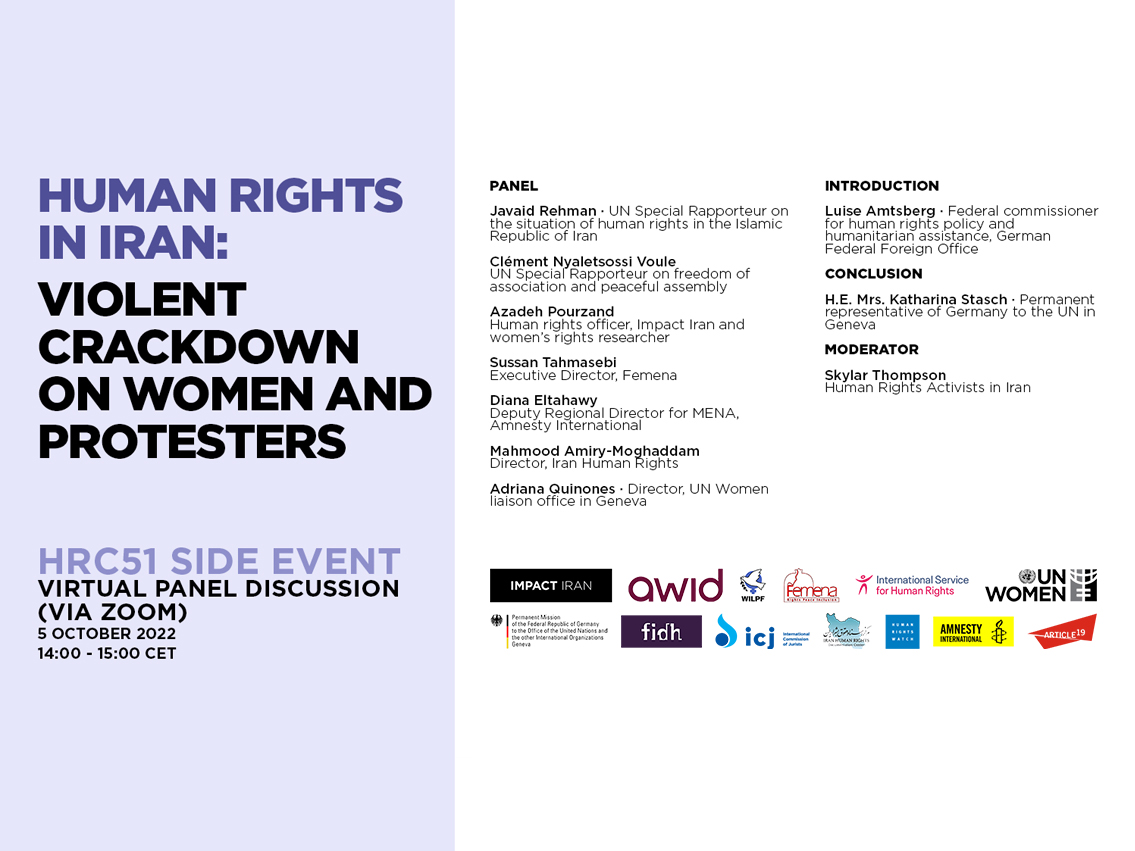 Date · Wednesday 5 October 2022
Co-sponsors
STATE · Permanent Mission of Germany
NGOs · Impact Iran, Iran Human Rights Documentation Center, FIDH, Women's International League for Peace and Freedom (WILPF), Femena, ISHR, International Commission of Jurists, Human Rights Watch, Amnesty International, ARTICLE 19, Association for Women's Rights in Development (AWID)
Background
The death in custody of 22-year-old Mahsa (Jina) Amini, who the Iranian "morality police" arrested on 13 September 2022 in Tehran for allegedly not wearing a "proper hijab" sparked a series of demonstrations throughout the country. Scores of women and men have been taking the streets – at the peril of their life – to demand truth and justice and for the Government to respect their fundamental rights. Protests have spread throughout the country, to protest the actions of the morality police and the compulsory veiling legislation, but also to demand accountability for violations committed by state agents and respect for people's human rights, freedoms and dignity.
Women and girls in Iran have been facing severe rights violations for many years. Women and girls are treated as second-class citizens, and face gender-based violence discriminated against in law and practice. Women are targeted for exercising fundamental freedoms. Laws regulate women's behavior and restrict their participation in public life.
The recent largely peaceful demonstrations have been met with excessive use of force, including the use of lethal force and arbitrary arrests, and disruption of internet access to the point of shutdowns, as well as temporarily filtering the most widely used platforms of WhatsApp and Instagram. NGOs monitoring the situation have reported dozens of victims (Iran Human Rights estimated that at least 133 protesters had been killed by security forces by 1st October), including of women and children, and hundreds injured across at least 11 provinces.
The Acting UN High Commissioner for Human Rights[1], a group of six Special Procedures[2] and numerous states have been expressing their concern at the unfolding situation, calling for Iran to respect the rights of women and to put an end to the excessive use of force against protesters, and calling for accountability.
Objectives
This side event will gather states, UN human rights experts and NGOs monitoring the situation of human rights in Iran to offer an update on the unfolding situation, share elements of analysis and formulate recommendations as to what should be done to remedy this situation and prevent its recurrence in the future. A particular emphasis will be put on the specific role of women and girls in Iran and the challenges they have faced and are currently facing.
MODERATION
Skylar Thompson · Human Rights Activists in Iran
INTRODUCTION
Luise Amtsberg · Federal Commissioner for Human Rights Policy and Humanitarian Assistance
PANEL
Javaid Rehman · UN Special Rapporteur on the situation of human rights in Iran
Clément Nyaletsossi Voulé · UN Special Rapporteur on freedom of association and peaceful assembly
Azadeh Pourzand · human rights officer, Impact Iran and women's rights researcher
Sussan Tahmasebi · Executive Director, Femena
Diana Eltahawy · Deputy Regional Director for the Middle East and North Africa, Amnesty International
Mahmood Amiry-Moghaddam · Director, Iran Human Rights
Adriana Quinones · Director, UN Women liaison office in Geneva (2min video statement)
CONCLUSION
H.E. Mrs. Katharina Stasch · Permanent Representative of Germany to the UN in Geneva
---
[1] https://www.ohchr.org/en/press-releases/2022/09/mahsa-amini-acting-un-human-rights-chief-urges-impartial-probe-death-iran (20 Sept) ; https://www.ohchr.org/en/press-briefing-notes/2022/09/concern-grows-over-violence-internet-restrictions-iran (27 Sept)
[2] https://www.ohchr.org/en/press-releases/2022/09/iran-un-experts-demand-accountability-death-mahsa-amini-call-end-violence (22 Sept)