HRC51 SIDE EVENT – Challenges to the Right to Health in the Islamic Republic of Iran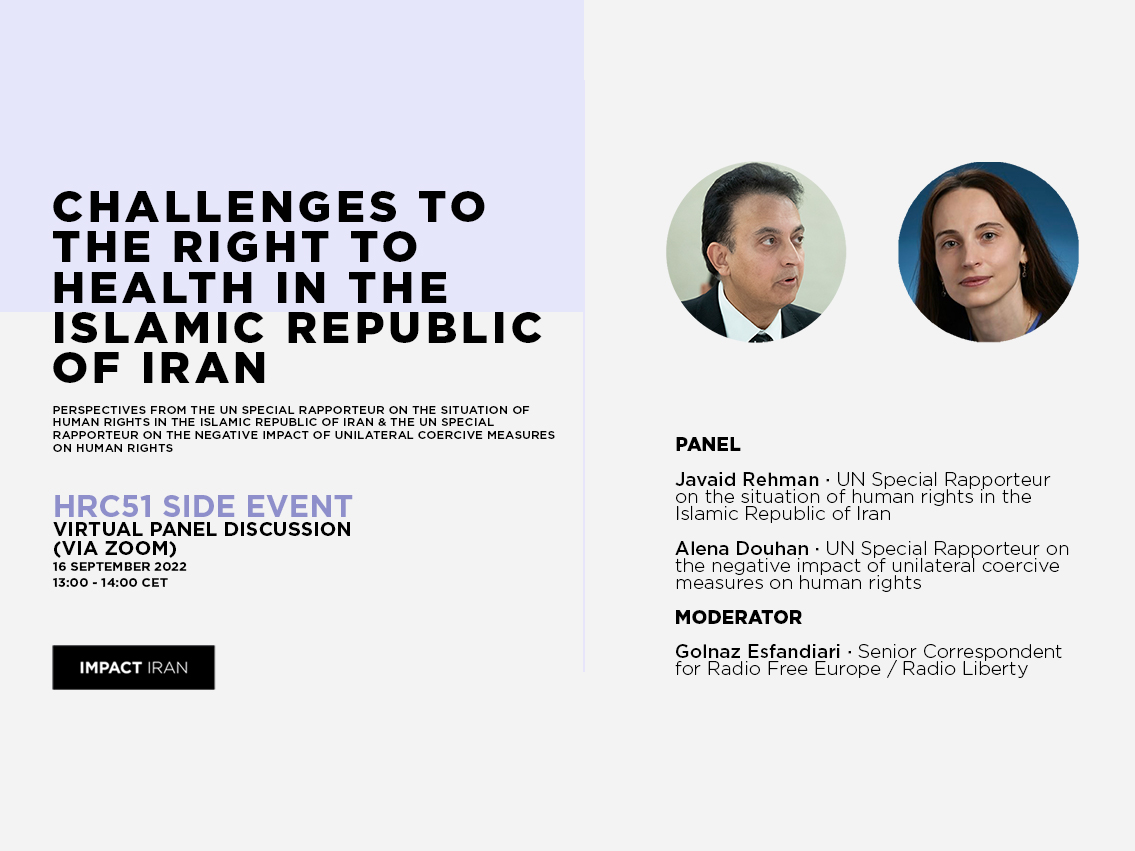 Perspectives from the UN Special Rapporteur on the situation of human rights in the Islamic Republic of Iran & the UN Special Rapporteur on the negative impact of unilateral coercive measures on human rights
Date · Friday 16th September
Time · 13:00 to 14:00 CEST (with a margin of up to +15min if needed)
Background
The COVID-19 pandemic has further strained Iran's deteriorating economy, contributing to soaring inflation, high unemployment and putting "enormous pressure on poor and vulnerable segments of the population." According to the UN Special Rapporteur on unilateral coercive measures, Pr. Alena Douhan, international sanctions and restrictions on financial transactions imposed on the country added to the social and economic challenges, "substantially exacerbating humanitarian situations in Iran" and negatively impacting people's standars of living, including their rights to food and to health.
The Special Rapporteur on the situation of human rights in the Islamic Republic of Iran, Dr. Javaid Rehman, has been documenting these already existing trends and their impacts on the human rights of people in Iran since he took office in 2018. While, Dr. Rehman repeatedly raised concerns about the imposition of sanctions, the Special Rapporteur also reported patterns of discriminatory laws and governmental practice which have constituted obstacles to and undermined the full enjoyment of right to health, especially for persons belonging to ethnic, religious and linguistic minorities, women and girls and other marginalised groups. Additionally, the Special Rapporteur on human rights in the Islamic Republic of Iran "raised grave concerns about the impact that the politicization of the COVID-19 vaccination policy and the ban on the import of certain COVID-19 vaccines have had on the right to health," and put the lives of many at risk.
Objectives
The visit of the UN Special Rapporteur on the negative impact of unilateral coercive measures on human rights, Pr. Alena Douhan, to the Islamic Republic of Iran in May 2022 marked the first time a UN Special Procedure visited the country in 17 years.
Building on Special Rapporteur Douhan's visit and Special Rapporteur Rehman's long-standing monitoring and reporting work and engagement with Iran's Government for the past four years, this discussion will allow the two mandate-holders to share complementary perspectives on the obstacles facing the realization of the rights to health in Iran, and to formulate recommendations for stakeholders to remove these obstacles.
Panel
JAVAID REHMAN · UN Special Rapporteur on the situation of human rights in the Islamic Republic of Iran
ALENA DOUHAN · UN Special Rapporteur on the negative impact of unilateral coercive measures on human rights
Moderation
GOLNAZ ESFANDIARI · Senior Correspondent, Radio Free Europe / Radio Liberty