One Year After Jina Mahsa Amini – as HRC54 Concludes, Sustained Global Efforts & Concrete Actions are Imperative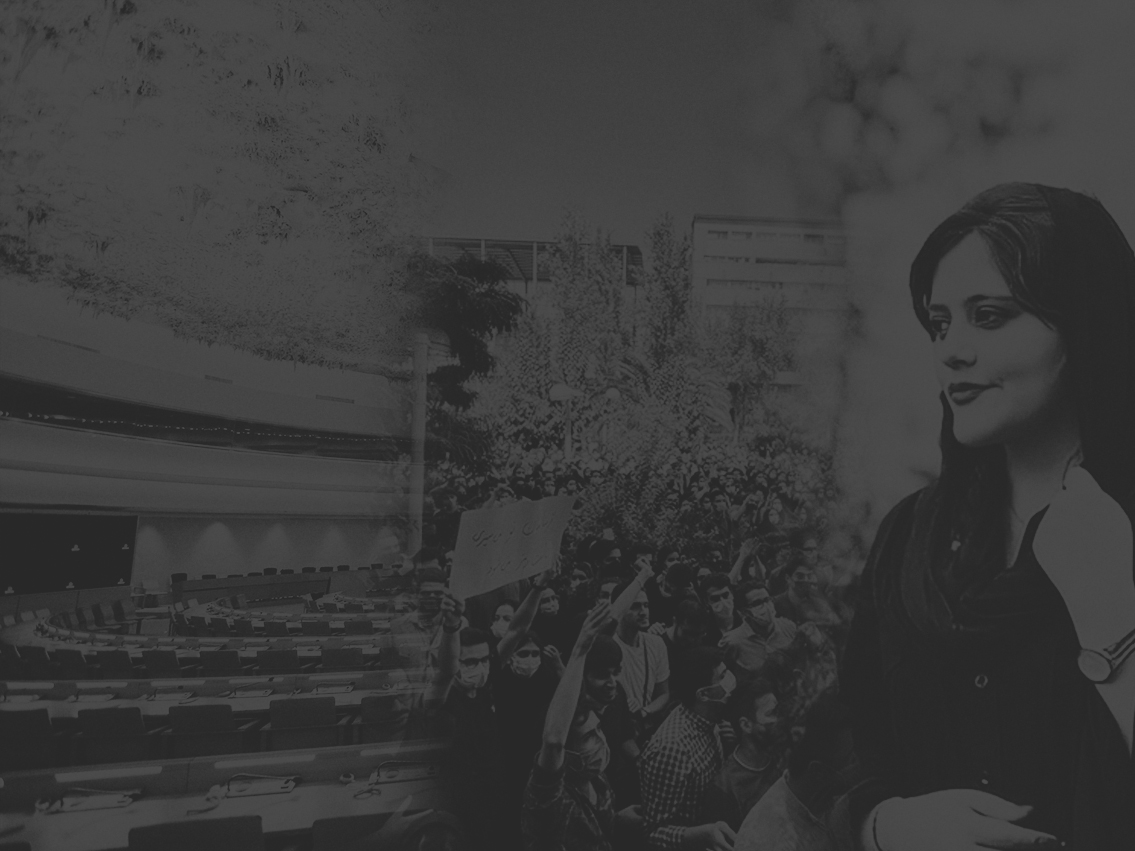 As the Human Rights Council session closes, a year after Jina Mahsa Amini and the start of nationwide protests, Iran's disregard for its international obligations demonstrates the need for continued monitoring and concrete actions.
The 54th session of the Human Rights Council was concomitant with the first anniversary of the death of Jina Mahsa Amini while in the custody of the morality police and the onset of state-led brutal repression of nationwide protests. This somber milestone prompted UN human rights experts and UN Member states to voice, once again, their condemnation and concerns about the State's continued efforts to further undermine human rights in Iran:
During the HRC session, the High Commissioner for Human Rights, Volker Türk, in his presentation of his annual report to the HRC on September 11th, expressed concern at the impending Hijab and Chastity Bill, adopted by Iran's Parliament and under Guardian Council review, which would expand the scope and severity of punishments against women not complying with the compulsory veil, as well as the renewed deployment of the morality police. The High Commissioner asserted: "accountability for Ms. Amini's death, and for violations in the context of subsequent protests, has been inadequate."
On October 4th, before the HRC, Canada, on behalf of more than 40 UN Member states from various regions, raised serious concerns about the impending "Chastity and Hijab" bill. In addition to deploying artificial intelligence for mass surveillance against women perceived as non-compliant with the law, "these developments exacerbate an already dire situation for women and girls, marked by widespread and systematic discrimination, both in law and in practice." They called on Iran to reconsider the bill in line with Iran's international obligations.
In the margins of the session, on 14 September, the Independent International Fact-Finding Mission on the Islamic Republic of Iran ("FFMI") released a statement concluding that the State "has failed to ensure truth, justice and reparations" and, instead, "is doubling down on repression and reprisals against its citizens and seeking to introduce new and more draconian laws that severely restrict further the rights of women and girls."
A collective of UN independent experts on 19 September emphasized that while the government "could have learned important lessons from the tragic death of Jina Mahsa Amini," "its response to the demonstrations that have led to the deaths of hundreds of protestors since September 2022 shows that authorities have chosen not to."
At the 1-year mark since the inception of nationwide protests and ensuing brutal and lethal state violence, these interventions collectively paint a grim assessment: It's been a year, and impunity prevails in Iran.
In the face of national and global outcry and amidst vocal support for grassroots efforts to promote human rights in Iran and the Women Life Freedom movement, Iran has remained startlingly hostile. Instead of seeking justice for the human rights violations and possible crimes against humanity stemming from the repression of the protests that ignited on 16 September 2022, the State has only deepened its assault on human rights. The looming "Hijab and Chastity" bill, despite sharp criticism from UN experts, stands as a testament to Iran's resolve to subjugate women and girls, further undermining human rights for all in the process. Among numerous alarming steps taken by the Islamic Republic of Iran since September 2022, the staggering surge in executions since the beginning of the year, in particular of members of ethnic minorities, further showcases Iran's determination to quell dissent. Meanwhile, journalists, lawyers, and family members of victims, including children, persistently face harassment, threats, and arrests as reprisal for seeking truth and reparation or for mourning their loved ones.
The conclusion of UN Special Rapporteur on the Islamic Republic of Iran Javaid Rehman is clear: "There is a complete absence of accountability for crimes under international law and other serious human rights violations in Iran, with no prospects that it could be achieved at the domestic level."
This sobering assessment amplifies the indispensable role of the international community. The relentless efforts of the Special Rapporteur are pivotal in maintaining a comprehensive and detailed record of human rights violations and ensuring Iran's human rights situation remains on the global agenda. In addition and complementary to the Special Rapporteur, the Independent and International Fact-Finding Mission is instrumental in meticulously building cases of serious human rights violations and possible crimes under international law in relation to the repression of the protests started in September 2022, paving the way for concrete accountability avenues anchored in thorough investigation and evidence grounded in international law. Together, these mechanisms are crucial for the pursuit of accountability for violations and possible crimes that occurred in relation to last year's protests and beyond.
A year has passed since September 2022, yet the State's actions did not emerge in a vacuum. They are part of a long-standing campaign to wield unchecked power at any cost, in spite of decades of piled-up UN recommendations that have remained actively ignored. Against this backdrop, our resolve to ensure that the State and all perpetrators are held accountable must remain unyielding. To ensure the Islamic Republic of Iran does not escape international scrutiny and accountability, global action must not only persist but also intensify. Commitments, notably through the establishment of the FFMI, must lead to tangible actions for accountability. Only then can we expect a path toward justice in Iran.