#SS35: Statement from High Commissioner Volker Türk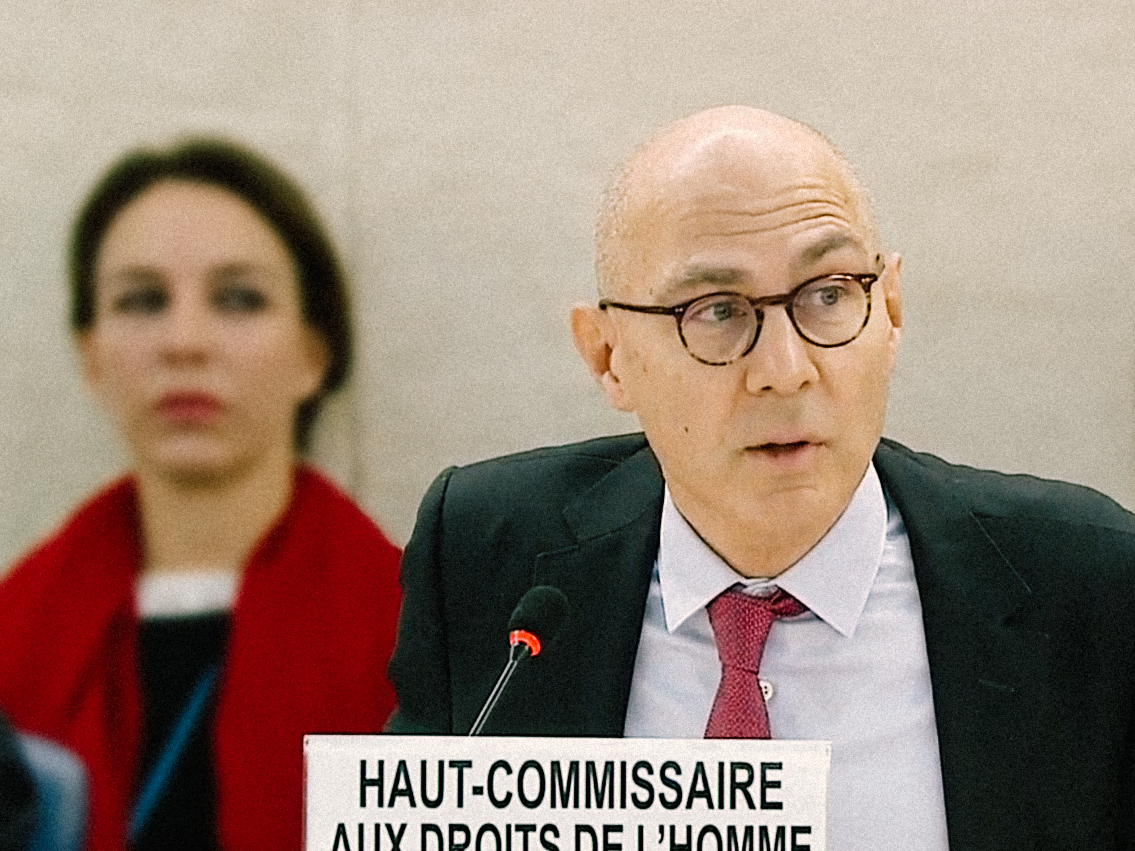 Mr. President,
Excellencies,
Distinguished delegates,
At the outset, let me begin by saying that I have deep admiration for the people of Iran.
On my numerous official visits to the country in my previous incarnation, I have been inspired by the people I met and by the country's rich cultural and literary heritage.
Iran's hosting of Afghan refugees was and remains a true expression of international solidarity.
It pains me to see what is happening in the country.
The images of children killed.
Of women beaten in the streets.
Of people sentenced to death.
We have seen waves of protests over the past years, calling for justice, equality, dignity and respect for human rights. They have been met with violence and repression.
The unnecessary and disproportionate use of force must come to an end.
The old methods and the fortress mentality of those who wield power simply don't work.
In fact, they only aggravate the situation.
We are now in a full-fledged human rights crisis.
The current protests, sparked on 16 September following the death in custody of Jina Mahsa Amini, have expanded throughout the country. Protests have reportedly taken place in over 150 cities and 140 universities in all 31 provinces of Iran. Minority regions continue to be disproportionately affected, especially in terms of casualties. Some of their representatives in Parliament have voiced criticism towards the response by the authorities to these protests.
Women, young people, men, from across society – students, workers from various sectors, athletes and artists are clamouring for change. With incredible courage.
To bring an end to discriminatory laws and practices against women and girls.
For the full respect of the rights and freedoms of all the people of Iran.
For inclusion and equality.
For a better, more just future.
I urge the Government and those in power to listen.
To acknowledge the deep-seated social, economic and political grievances that have been building up.
To heed people's demands for their rights to be protected and for their voices to be heard.
To accept the legitimacy of those calling for different visions of society.
Women and girls must be able to feel free and secure in public without fear of violence or harassment. To live in safety and be able to participate in public life on equal footing with men.
Young people need to know that they can peacefully express their opinions without fear of arrest and imprisonment.
Mr. President,
The current situation is untenable.
Since the protests began, security forces have reportedly responded by using lethal force against unarmed demonstrators and bystanders who posed no threat to life. In blatant disregard of international rules on the use of force.
The security forces, notably the Islamic Revolutionary Guard Corps and Basij forces have used live ammunition, birdshot and other metal pellets, teargas and batons.
According to reliable sources, a conservative estimate of the death toll so far stands at over 300, including at least 40 children.
This is unacceptable.
We received reports that injured protesters fear going to hospital for risk of being arrested by the security forces. Medical professionals have publicly denounced interference by security forces in the treatment of injured protesters.
From what we could gather, around 14,000 people, including children, have so far been arrested in the context of the protests. This is a staggering number.
I am alarmed by reports that even children suspected of having participated in protests are being arrested at school.
Hundreds of university students have been summoned for questioning, threatened or suspended and barred from entering university campuses.
Civil society actors have been targeted and arrested from their homes and workplaces, among them human rights defenders, journalists, and lawyers.
Arrested protesters continue to be denied access to a lawyer. Many face national security charges with lengthy prison sentences.
There are troubling reports of physical and psychological torture and ill treatment of protesters in detention to extract forced confessions, with some of them broadcast on State media.
Families of victims are harassed and targeted.
According to official sources, at least 21 people arrested in the context of the protests currently face the death penalty of which at least six have been sentenced to death on charges of moharebeh (enmity against God) and efsad-e fel-arz(corruption on earth), inconsistent with international standards.
We have seen statements that seek to delegitimize and label protesters, civil society actors and journalists as agents of enemies and foreign States.
That's a convenient narrative.
As we have seen throughout history, it's the typical narrative of tyranny.
To distract from the root causes of grievances.
The people of Iran, from all walks of life, across ethnicities, across ages, are demanding change.
These protests are rooted in long-standing denials of freedoms.
In legal and structural inequalities.
In lack of access to information. In internet shutdowns.
For decades, women and girls have been held back by pervasive discrimination in law and practice.
And, in the absence of any effective channels to raise their concerns, fears and frustration have multiplied.
People have become disillusioned in the absence of prospects for any real reforms.
So, they have taken to the streets.
Mr. President,
My Office has received multiple communications from the Government on the events, including domestic investigations into Ms. Amini's death. We remain concerned that the investigations have failed to meet international standards of impartiality, independence and transparency.
Persistent impunity for human rights violations remains one of the major challenges in Iran, further fueling discontent and distrust.
Political and security considerations have weakened the independence and impartiality of institutions that are vital to ensuring accountability.
Yet accountability is a key ingredient of the pursuit of justice for human rights violations.
I therefore call for independent, impartial and transparent investigative processes into alleged violations of human rights, consistent with international standards.
I am also deeply concerned by the alarming increase in the number of executions since 2021, particularly for drug-related charges. As of September 2022, the overall number of executions had reportedly passed 400 for the year, for the first time in five years. This is a substantial increase from at least 330 and 276 executions in 2021 and 2020, respectively.
And at least 85 individuals who were children at the time of committing the alleged offence are currently on death row. Two were executed this year.
Mr. President,
The Islamic Republic of Iran has accepted recommendations made through this Council's Universal Periodic Review on guaranteeing the right to a fair trial, access to justice, ensuring freedom from torture in detention, and ensuring the rights of detainees, including to medical treatment. I urge the Government to implement these key recommendations – as a matter of urgency.
I call on the authorities immediately to stop using violence and harassment against peaceful protesters.
And to release all those arrested for peacefully protesting, as well as – crucially – to impose a moratorium on the death penalty.
Societies are constantly evolving and changing.
No society can be calcified or fossilized as it may stand at a single point in time. To attempt to do so, against the will of its people, is futile.
I urge those holding power in Iran fully to respect the fundamental freedoms of expression, association and assembly, which are integral to sustainable development.
And to engage with the people of Iran about their vision for the future of their country.
Change is inevitable. The way forward is meaningful reforms.
Moteshakeram.
Thank you.