Reflection on the Iran Mandate – March 2017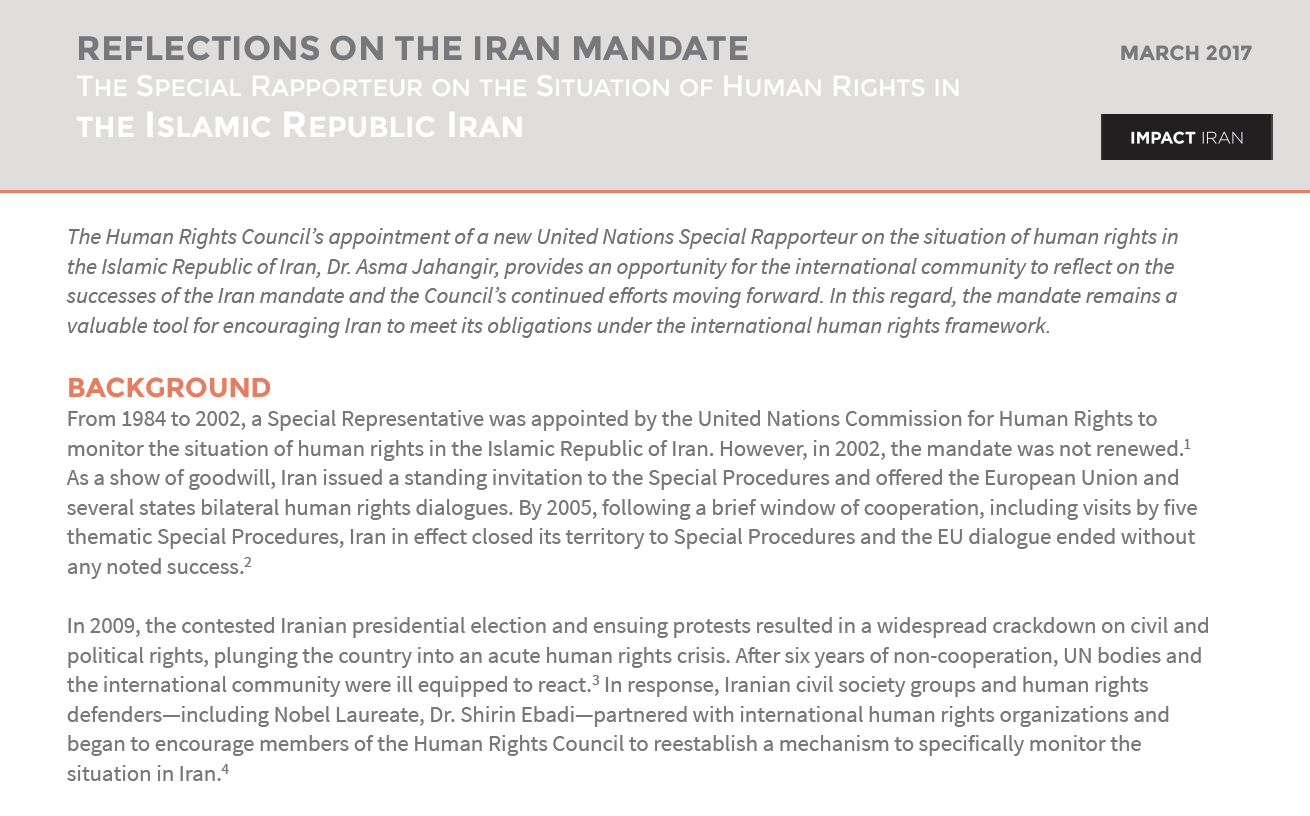 The Human Rights Council's appointment of a new United Nations Special Rapporteur on the situation of human rights in the Islamic Republic of Iran, Dr. Asma Jahangir, provides an opportunity for the international community to reflect on the successes of the Iran mandate and the Council's continued efforts moving forward. In this regard, the mandate remains a valuable tool for encouraging Iran to meet its obligations under the international human rights framework.
BACKGROUND
From 1984 to 2002, a Special Representative was appointed by the United Nations Commission for Human Rights to monitor the situation of human rights in the Islamic Republic of Iran. However, in 2002, the mandate was not renewed. As a show of goodwill, Iran issued a standing invitation to the Special Procedures and offered the European Union and several states bilateral human rights dialogues. By 2005, following a brief window of cooperation, including visits by five thematic Special Procedures, Iran in effect closed its territory to Special Procedures and the EU dialogue ended without any noted success.
In 2009, the contested Iranian presidential election and ensuing protests resulted in a widespread crackdown on civil and political rights, plunging the country into an acute human rights crisis. After six years of non-cooperation, UN bodies and the international community were ill equipped to react.3 In response, Iranian civil society groups and human rights defenders—including Nobel Laureate, Dr. Shirin Ebadi—partnered with international human rights organizations and began to encourage members of the Human Rights Council to reestablish a mechanism to specifically monitor the situation in Iran.
On 24 March 2011, following two years of concerted efforts by rights defenders, the Human Rights Council ("HRC" or "the Council") established the mandate of a Special Rapporteur ("SR") on the situation of human rights in the Islamic Republic of Iran. The former foreign minister of the Maldives, Dr. Ahmed Shaheed, was appointed and served as the Special Rapporteur from 2011-2016. Even before the appointment of Dr. Shaheed, the Islamic Republic of Iran quickly rejected the mandate as "illegitimate" and stated that it would not cooperate with the SR.
This pattern of non-cooperation with the UN and grave human rights abuses continues today, posing critical challenges to the ability of the UN to independently monitor the human rights situation in the country.6 Iran has not facilitated a country visit by the Special Procedure since 2005.