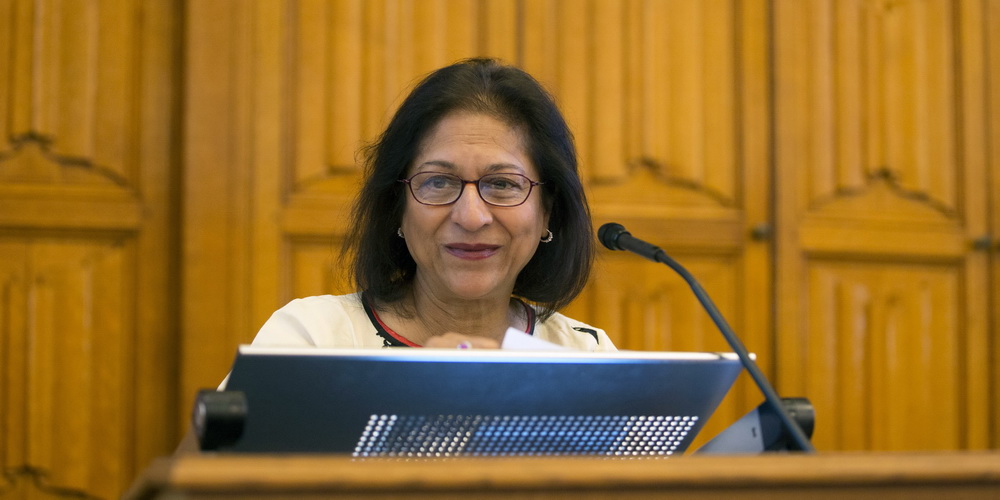 Dr. Asma Jahangir is currently the United Nations Special Rapporteur on the Situation of Human Rights in the Islamic Republic of Iran.
Asma Jahangir born 27 January 1952 in Lahore, is a Pakistani human rights lawyer and social activist who co-founded and chaired the Human Rights Commission of Pakistan. She is widely known for playing a prominent role in the Lawyers' Movement and serves as the trustee at the International Crisis Group.
Born and raised in Lahore, Jahangir studied at the Convent of Jesus and Mary before receiving her B.A from Kinnaird and LLB from the Punjab University in 1978. In 1980, Jahangir was called to the Lahore High Court and to the Supreme Court in 1982. In the 1980s, Jahangir became a democracy activist and was imprisoned in 1983 for participating in the Movement for the Restoration of Democracy against the military regime of Zia-ul-Haq. In 1986, she moved to Geneva, and became the vice-chair of the Defence for Children International and remained until 1988 when she moved back to Pakistan.
In 1987 she co-founded the Human Rights Commission of Pakistan and became its Secretary General until 1993 when she was elevated as commission's chairperson. She was again put under house arrest in November 2007 after the imposition of martial law. After serving as one of the leaders of the Lawyers' Movement, she became Pakistan's first woman to serve as the President of Supreme Court Bar Association of Pakistan. She has co-chaired South Asia Forum for Human Rights and was the vice president of International Federation for Human Rights.
Jahangir served as the United Nations Special Rapporteur on Freedom of Religion from August 2004 to July 2010, including serving on the U.N. panel for inquiry into Sri Lankan human rights violations and on a fact-finding mission on Israeli settlements. Jahangir is the recipient of several awards including the 2014 Right Livelihood Award (along with Edward Snowden), 2010 Freedom Award, Hilal-i-Imtiaz in 2010, Sitara-i-Imtiaz, Ramon Magsaysay Award, 1995 Martin Ennals Award for Human Rights Defenders, and the UNESCO/Bilbao Prize for the Promotion of a Culture of Human Rights. She was awarded an Officier de la Légion d'honneur by France. Her prominent writings include The Hudood Ordinance: A Divine Sanction? and Children of a Lesser God.