Legislative Process in the Islamic Republic of Iran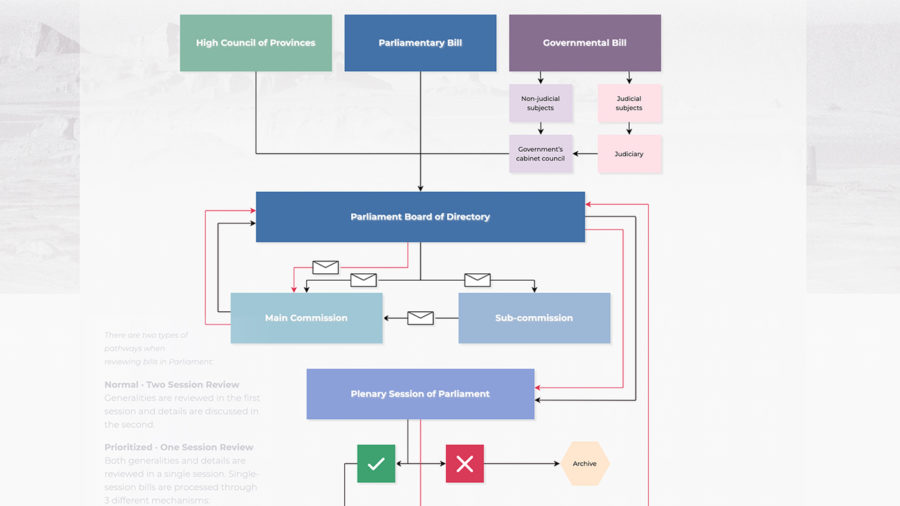 The Islamic Assembly (known as Majlis) is the only institution authorized to make law, according to Article 58 of the Constitution.
Types of bills that can be introduced to legislators:
Proposal relevant to city councils' duties and responsibilities.
A minimum of 15 members sponsor a bill.
A proposal draft approved by the government's cabinet council.
The role of the Guardian Council is to examine
the bill to make sure that the proposed law is
in line with Sharia law and the principles of
the Constitution.

Note: Political and religious opinion or orders
of the Supreme Leader are considered Sharia
law to clerical members of the Guardian
Council.
Modified based on Guardian Council opinion.
Insisted on Parliamentary decision.
Approved Guardian Council's opinion.
Approved Parliament's opinion.
SECOND ROUND OF PROCEDURE
in case the Guardian Council reject a bill (The procedure continues until the bill is approved by the Guardian Council)
ROAD TO BYPASS GUARDIAN COUNCIL
if Parliament insist on their decision
There are two types of
pathways when
reviewing bills in Parliament:
Normal · Two Session Review Generalities are reviewed in the first session and details are discussed in the second.
Prioritized · One Session Review Both generalities and details are reviewed in a single session. Single-session bills are processed through 3 different mechanisms:
Level 1 · Urgent Reviewed by the relevant commission and presented to Parliament as a priority outside of the regular schedule of the commission.
Level 2 · Very Urgent Reviewed by Parliament within 24 hours (outside of its regular schedule).
Level 3 · Most Urgent The review must take place on the same day that the Parliament approves prioritization.