Group Letter in Le Monde: 'As human rights activists and journalists, we demand the immediate release of Narges Mohammadi, the 2023 Nobel Peace Prize laureate who is now on hunger strike'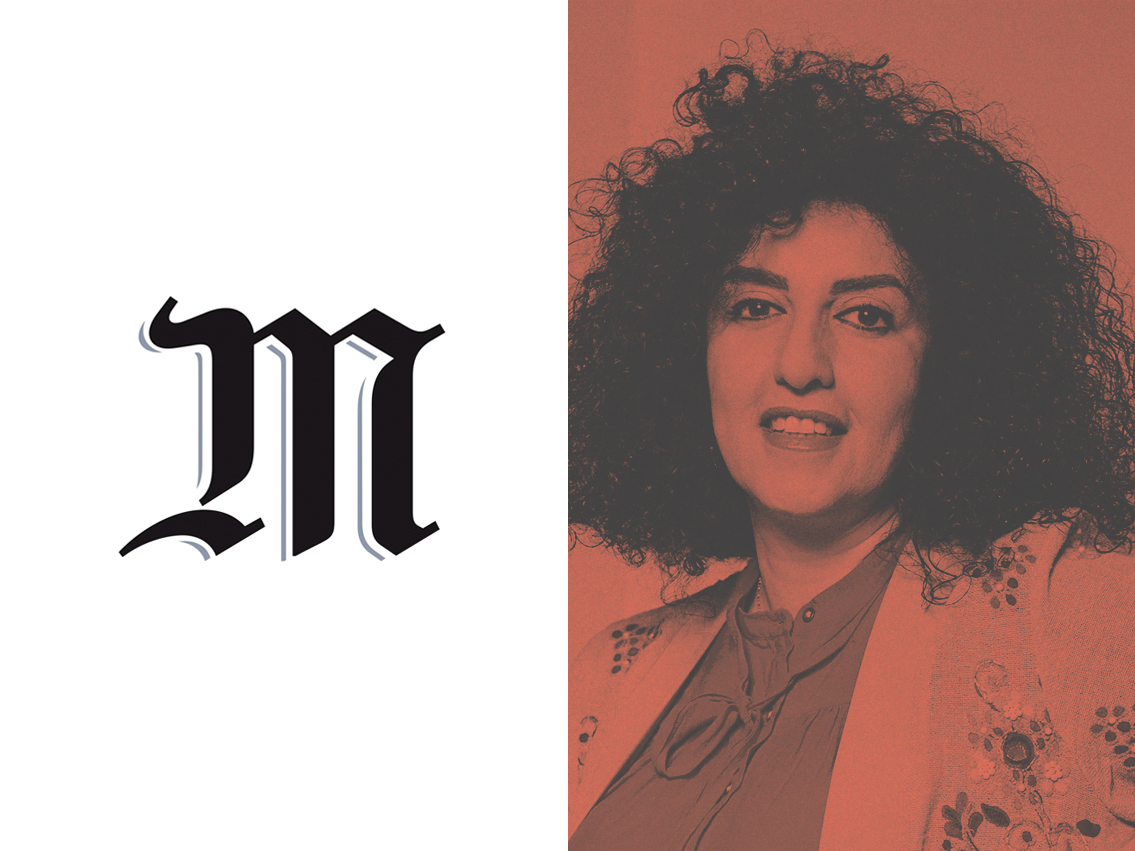 Find the letter on Le Monde's website in English and French.
As wars rage across the globe and as the last few weeks in particular have been defined by atrocities, bigotry, and hatred, peaceful voices must be amplified now more than ever.
On October 6, Iranian journalist and human rights activist Narges Mohammadi was awarded the Nobel Peace Prize in recognition of her struggle "against the oppression of women in Iran and in favor of human rights and freedom for all."
Today, Narges — who has been held captive in Iran's infamous Evin Prison since November 2021 — is in greater danger than she has ever been.
Arrested thirteen times and sentenced five times to a total of thirty-one years' imprisonment and 154 lashes in patently unfair trials, Narges Mohammadi has established herself as a figure of resistance to Iran's theocratic regime and as a standard-bearer of the Woman, Life, Freedom uprising in Iran. She has always fought against the death penalty and torture, and in favor of gender equality.
Just as the Chinese poet and dissident Liu Xiaobo died in captivity in 2017, we now risk seeing yet another Nobel Peace Prize laureate perish in prison for lack of proper care.
For the third time in twenty days, prison officials, acting on orders from Iran's highest authorities, have refused to transfer Narges Mohammadi to a hospital for urgent cardiological care.
On November 6, Narges Mohammadi went on hunger strike to protest the denial of healthcare to inmates who are forced to choose between the Islamic Republic's mandatory hijab and death. In solidarity, seven of her fellow inmates have followed suit.
A few weeks earlier, Narges Mohammadi was assaulted by guards in the prison yard for exposing their torture and mistreatment of her fellow inmates.
While these punishments have been meted out by Narges' captors, the activist herself has declared that she will never again don the mandatory hijab. Narges made this declaration to honor the memory of Jina Mahsa Amini, who was killed for a supposedly poorly-worn hijab at the age of 21, as well as that of Armita Garavand, who died on October 28 — the day of Narges' pledge — at the age of just 16. Narges' promise also honors all the women now fighting against the oppression encapsulated by the mandatory hijab.
Do we want to witness yet another state-sponsored murder carried out by the Islamic Republic of Iran — which, to add insult to injury, has just chaired the United Nations' Social Forum on Human Rights?
Every hour that passes is now a matter of life and death for Narges, and we hold the Iranian authorities responsible for anything that may happen from this day forward.
Narges Mohammadi sacrificed her freedom and a life with her family in the name of a struggle for human rights which concerns us all. Ever-conscious of the need for peace and the preservation of human life, Narges called for a ceasefire in the Middle East from her cell in Evin Prison on November 1, condemning any and all massacres of civilians — regardless of where they come from.
This is why we, as human rights activists, are calling on international civil society to mobilize en masse to demand the immediate release of Narges Mohammadi.
She does not belong in prison. Her place is alongside her loved ones, and it is especially in Oslo, where she is due to collect her Nobel prize in person on December 10.
To ensure her release, we call upon all citizens, political figures, and human rights organizations to join our organizations in a broad-based campaign from today onwards.
Narges Mohammadi recently wrote that "victory is not easy, but it is a certainty". We have the power to prove her right.
EARLY SIGNATORIES
The support committee of Narges Mohammadi and her family
Taimoor Aliassi, Executive Director of Kurdistan Human Rights Association-Geneva (KMMK-G)
Mahmood Amiry-Moghaddam, Director of Iran Human Rights (IHRNGO)
Chirinne Ardakani, lawyer, President of Iran Justice
Raphaël Chenuil-Hazan, Executive Director of "Ensemble contre la peine de mort" (ECPM)
Christophe Deloire, Secretary General, Reporters Without Borders (RSF)
Shirin Ebadi, lawyer, Nobel Peace Prize winner
Karim Lahidji, Iranian lawyer, Honorary President of the International Federation for Human Rights (FIDH)
Olive Moore, Deputy Director of Front Line Defenders
Laurence Roques, lawyer, President of the Human Rights and Freedoms Commission of the French National Bar Council (CNBF)
Jean-Claude Samouiller, President, Amnesty International France
FURTHER SIGNATORIES
Abdullah Aref, Director Baloch Activists Campaign
Hirbod Deghani-Azar, Lawyer, President of Norouz
Darya Djavahery-Farsi, President of Neda d'Iran
Emma Dinparast, Azadi 4 Iran Collective
Shahin Helali Khyavi, Director of the Association for the Human Rights of the Azerbaijani People in Iran-Ahraz
Negin Khazaee and Rene Kassie, Co-Presidents of Queers and Feminists for Iran Liberation
Shahin Milani, Executive Director, Iran Human Rights Documentation Center (IHRDC)
Awin Mustafazadeh, Spokesperson, Kurdpa Human Rights Organization
Hassan Nayeb Hashem, Executive Director, All Human Rights for All in Iran
Elisabeth Nicoli, Lawyer, President of the Women's Alliance for Democracy
Rose Parris Richter, Impact Iran
Azadeh Pourzand, Executive Director Siamak Pourzand Foundation (SPF)
Düzen Tekkal, President of Háwar Help
Aïda Tavakoli, We Are Iranian students (WAIS)
Irene Ansari, Coordinator, League of Iranian Women for Democracy (LFID)
Roya Boroumand, Director of the Abdorrahman Boroumand Center for Human Rights in Iran
Jaleh Tabrizi, ARC association