HRC54 Side Event with KMMK-G, Minority Rights Group, ECPM, and IED: Statement from Sara Hossain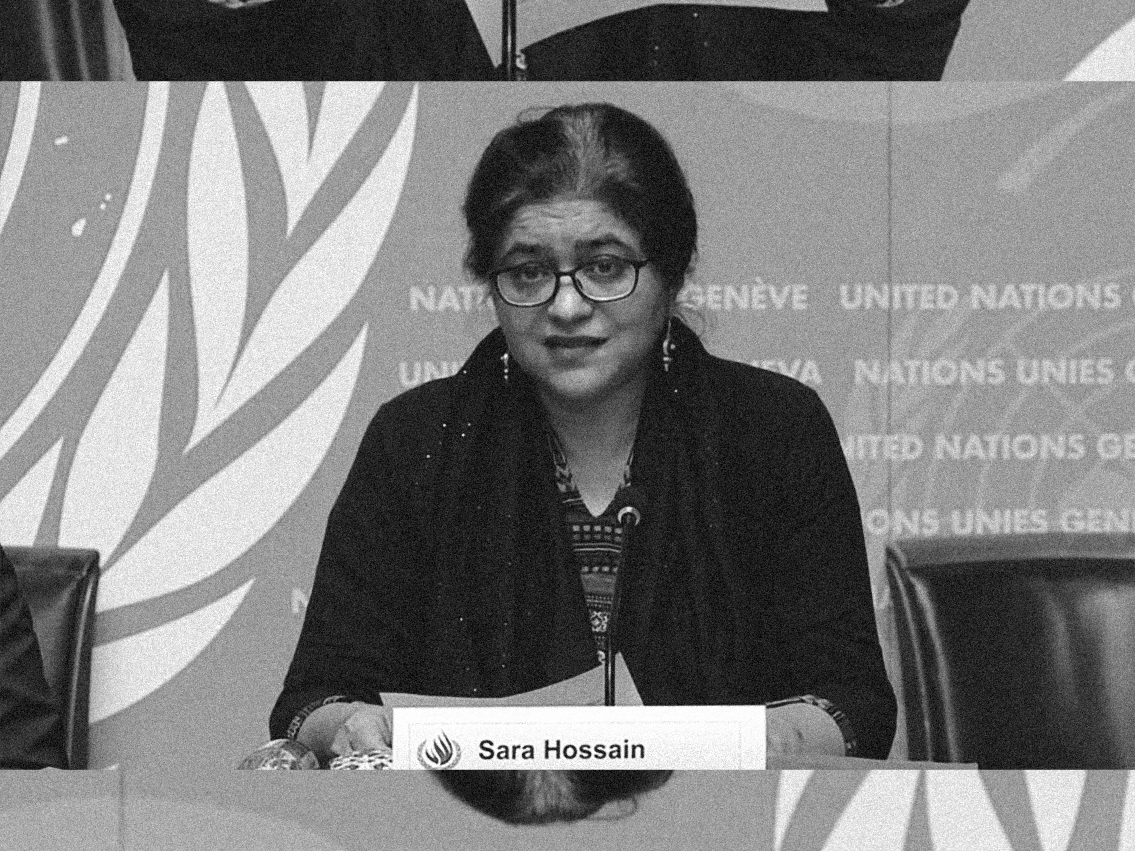 Statement from Sara Hossain, chair of the Independent International Fact-Finding Mission on the Islamic Republic of Iran, from side event "IRAN'S WOMEN, MINORITIES AND THE FIGHT FOR RIGHTS · One Year After Jina Mahsa Amini's Death in Custody". Find our recap of the 54th session of the Human Rights Council for more information.
Thank you for inviting me speak on behalf of the Fact-Finding Mission on Iran and to address the issues of accountability and justice in Iran, as these are very much at the heart of our mandate. As you all know, the Fact-Finding Mission was established last year in November 2022 by the Human Rights Council. We were given a threefold mandate. First: To investigate alleged human rights violations occurring in the Islamic Republic of Iran in relation to the protests that began there on the 16th of September 2022, especially in relation to women and children. Secondly, to examine the related facts and circumstances, and thirdly, to collect, consolidate, analyze, and preserve evidence in relation to future legal proceedings. We have so far received and analyzed information about a wide range of alleged violations. These include the death and custody of Jina Mahsa Amini, and repression during protests, including the use of force, reportedly resulting in killings and injuries of protesters and bystanders. Arbitrary arrests in detentions and targeted repression of individuals, including, amongst others, human rights defenders, lawyers, journalists, teachers, and family members who are seeking truth and justice for victims. We're also looking into allegations of torture and ill-treatment, enforced disappearances, sexual and gender-based violence and reprisals against families of protesters and others, as well as issues of fair trial, including the use of the death penalty and restrictions on communications, in particular online. Our investigation seeks to identify bodies, individuals, and structures involved in the commission of violations and crimes under international law and to examine the steps which the State of Iran has undertaken to date to address these alleged violations. Our mission is scrupulously following a victim-centered and intersectional approach in the conduct of investigations. This means that we're looking into incidents where children, women, and members of ethnic and religious minorities have been particularly affected, and we're seeking to make visible the impact of the alleged violations on them. As part of our mandate, we're also identifying discrimination as it occurs on grounds of age, sex, socioeconomic status, religion, and ethnicity, as well as sexual orientation, gender identity, and disability.
Let me update you briefly on the status of our investigation so far. As you know, we're now halfway through our mandate. And we have to report to the Human Rights Council in March 2024. As such, we can't give you detailed findings at this point, but we can confirm that we're extensively conducting investigations, and our approach is to conduct and collect our own information, particularly through interviews with victims and witnesses, their representatives and advocates, to enable and facilitate their informed participation. We're also analyzing vast amounts of information that are available through open sources, including official information from the government of Iran. Unfortunately, we have yet to receive a positive response to visit the country in response to our repeated requests on this line. And so, like many other investigative bodies, we're conducting our investigations entirely remotely, we have sent out 14 detailed letters seeking information on particular issues to the government of Iran. We have received only partial responses to date. This is regrettable. As we've repeatedly said, we are open to and committed to making an independent assessment with information from a wide range of sources. I'd like to stress here the ongoing nature of our mandate. So we're focusing both on past violations, particularly from the height of protests between September and December 2022. But we're also looking at alleged violations since then and those that are linked to the protest and in particular to the Woman Life and Freedom movement.
Let me highlight a few concerns and I refer you to our press statement which was issued last night in his in our web page for further details. I can first say that the Fact-Finding Mission has now reached the conclusion that investigations so far by the government of Iran into Jina Mahsa Amini's death in custody have fallen far short of international human rights norms and standards, including the requirements of independence and transparency. Her family has suffered intimidation, even her grave site has been damaged on at least two occasions, as we have seen from media reports. As we approach the tragic anniversary of Jina Mahsa Amini's death in custody, we're disturbed to note that rather than furthering the investigations and the process of accountability, authorities are instead exacerbating punitive measures against those exercising their fundamental rights, in particular freedom of expression and assembly. And they seem to be reinforcing the capacity to quell dissent, including with the use of heightened surveillance technology. We've observed and documented escalating harassment and intimidation of family members of protesters, including children. Dozens of family members, including those who have simply been trying to mourn their loved ones, and seek truth and justice for the alleged violations against them, have reportedly been arrested or summoned for questioning in recent weeks. We're particularly concerned about the situation of three of the journalists who reported on Jina Mahsa's death last year. Niloofar Hamedi and Elaheh Mohammadi have been in detention for nearly a year, and they're currently facing trial on allegations of, amongst others, national security violations and propaganda against the state. Nazila Maroufian, another journalist who had interviewed the father of Jina Mahsa, is also continuing to face charges. Jina Mahsa's family's lawyer Saleh Nikbakht has, according to official sources, been summoned for questioning and is standing trial now on charges again of propaganda activity.
Regarding the situation of women and girls, we are disturbed to note that the parliament in Iran is now considering two bills that seek to increase punishment for improper hijab. If these are passed, they would negatively impact on a wide range of rights of women's and women and girls. This would include their rights to education, health, adequate standard of living, as well as their right to take part in the public life of their country. We're very concerned to note the announcement of a smart program involving surveillance cameras to identify women violating the hijab mandate or even wearing loose clothing in public. We've also heard about the deployment of vehicle and foot patrols across the country to enforce hijab rules and about increasing numbers of women and girls who are being arrested and sentenced in this connection.
Finally, we're deeply disturbed to note the ongoing execution of protesters, as well as the treatment of those who are still detained. At least 26 individuals have been sentenced to death in connection with the protests, and seven men have already been executed, in some cases after trials lasting only a few days. Over the past year, several protesters have also died in custody following reports of torture. Most recently, we've learned that Javad Ruhi, a young protester who was reportedly subjected to torture and remained detained even after his death sentence had been overturned.
Finally, let me turn to the issue of advancing accountability. As I noted, the Fact-Finding Mission has been conducting the collection and consolidation, analysis and preservation of information and evidence in view of possible cooperation with legal proceedings. The kind of cooperation that may take place may include the sharing of relevant information and evidence in accordance with international law standards with competent national courts or investigative judicial or prosecutorial authorities in third countries or its international level as appropriate. Our recommendations to the Islamic Republic of Iran will include measures for prevention, protection, and reparation, and on addressing impunity. Our recommendations may also comprise measures to be taken by other United Nations member states, to increase respect and protection of human rights in Iran and to promote equality, truth, and justice, as well as to support the design and implementation of reparations. The work of investigative bodies mandated by the Human Rights Council has contributed to truth and justice for victims and accountability in many other countries and jurisdictions. Establishing facts to expose human rights violations is a crucial first step to ending impunity. In some cases, in other countries, we have seen that investigative bodies have identified those responsible for violations and have called for concrete action, including in third countries under accepted principles of extraterritorial or universal jurisdiction. As we indicated in our oral update back in July to the Human Rights Council, the people of Iran, in particular women and girls and members of every community and every faith, have fundamental rights to equality, truth, justice, accountability, and reparation, and we're determined to make every effort to support them on this journey to achieving their legitimate aspirations. Thank you all again for the opportunity to speak with you today, and I wish you a constructive discussion in today's side event.