UN experts condemn charges against Iranian woman seeking missing relatives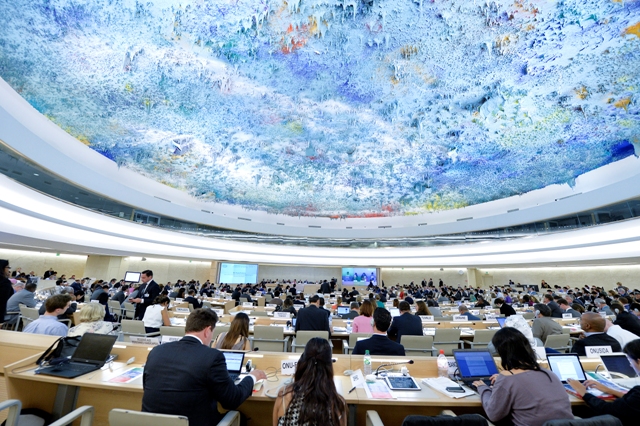 Joint letter in support of UNGA resolution
GENEVA (24 November 2016) – Iran must end the harassment of a woman trying to learn the fate of her brother and his newborn daughter, who disappeared from prison more than 30 years ago, a group of United Nations human rights experts has said.
The campaign against Raheleh Rahemipour may be a direct reprisal for her search, according to the experts*.
Ms. Rahemipour is now facing criminal charges and has undergone a lengthy interrogation at the same jail where her brother and the baby were last seen in 1984 – Evin prison in Teheran.
The UN experts are calling on Iran to drop all charges against Ms. Rahemipour and halt the campaign against her.
"Rather than investigating the alleged disappearance of Ms. Rahemipour's relatives, the government of Iran has decided to launch a campaign of harassment and intimidation against her," the experts stated.
"We are concerned that the judicial process against Ms. Rahemipour may be a direct reprisal for her human rights activism in the search for her relatives, as well as the exercise of her rights to peaceful assembly and freedom of expression."
"We urge the Iranian Government to immediately drop all charges against Ms. Rahemipour and to halt any acts of retaliation against relatives, witnesses and human rights defenders who report cases of enforced disappearances."
The experts say that since concerns about the missing pair were relayed to the Iranian authorities by the Working Group on enforced or involuntary disappearances, earlier in 2016, the harassment against Ms. Rahemipour has only increased.
She is said to have faced intimidating calls and messages from the Iranian security apparatus, followed by lengthy interrogation sessions in Evin prison.
"We conveyed our concerns to the Government of Iran through an urgent communication in August 2016, yet instead of replying to our call, the State authorities have now charged Ms. Rahemipour with a number of national security offences, including 'propaganda against the regime', and 'participation in unlawful assemblies'," the experts noted.
Ms. Rahemipour has been given a court hearing date of 13 December before a judge reputed to pass extremely harsh sentences against political activists.
Her brother was last seen in Evin prison in August 1984, a year after he and his pregnant wife had been arrested over their political beliefs. Their baby daughter was born in jail in April 1984, but was taken away when she was only a few days old, and the couple was told she had died.