OHCHR Press Briefing Note on Iran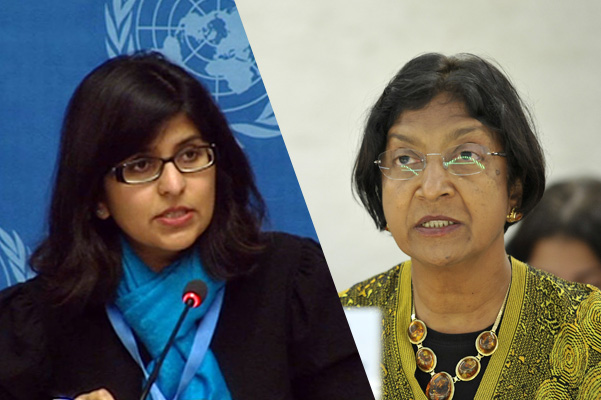 Spokesperson for the High Commissioner on Human Rights Ravina Shamdasani (c) UN; UN High Commission on Human Rights Navi Pillay, UN Photo, (c) Jean-Marc Ferré
Spokesperson for the UN High Commissioner for Human Rights: Ravina Shamdasani
Location: Geneva
We are deeply concerned about the reported spike in executions in Iran since the beginning of this year. In just over seven weeks, at least 80 people have been executed. Some reliable sources indicate the figure could be as high as 95.
The majority of these executions were for drug-related offences, which do not meet the threshold in international law of "most serious crimes" for which the death penalty may be applied. A number of individuals were also executed in secret and at least seven people have been executed in public this year.
We are especially concerned about the reported execution in secret of Mr Hadi Rashedi and Mr Hashem Sha'bani Amouri, both members of the Ahwaz Arab community. Their executions were reportedly carried out last month (January) following proceedings that did not meet international fair trial and due process standards, as laid out in article 14 of the International Covenant on Civil and Political Rights. The two men were reportedly sentenced to death on ill-defined charges of "enmity against God" (Moharebeh), corruption on earth (Mofsid fil-arz) and acts against national security. They were allegedly denied access to a lawyer and their families for the first nine months of their detention, and reportedly subject to torture to force confessions. Various UN Special Rapporteurs and United Nations human rights mechanisms had previously expressed serious concerns about their sentences and appealed to the Government not to proceed with the executions.
An escalation in executions, including of political prisoners and individuals belonging to ethnic minority groups, was notable in the second half of 2013. At least 500 people are known to have been executed in 2013, including 57 in public. According to some sources, the figure may be as high as 625.
We regret that the new Government has not changed its approach to the death penalty and continues to impose capital punishment for a wide range of offences. We urge the Government to immediately halt executions and to institute a moratorium.
On a related note, the Secretary-General and the Special Rapporteur on the situation of human rights in the Islamic Republic of Iran are due to present their reports to the 25th session of the Human Rights Council in the coming weeks.
For the spokespersons' notes on Papua New Guinea and Haiti click here.